Addressing Mealtime Issues in the Home or Workplace
Tuesday, October 10, 2017 @ 9:00 AM

-

12:00 PM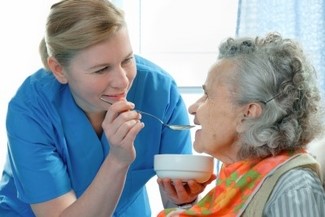 Registration Fee: $30 (Reduced fee for Dane County Developmental Disability Support Providers: $15)

Presenters: Stevie Marvin, MS, CCC-SLP and Sandy Droster, OTR
"Why does he cough when he is eating?"
"Why can't we just cut up his food instead of grinding it up anyway?"
"Why has she had pneumonia so often this past two years?"
"How do you get this thickening stuff to the right consistency?"
Do you, your co-workers or family members ever ask these types of questions about someone you care for? If so, please come to this highly important training opportunity!
Adults with developmental disabilities often have challenges with swallowing that may go unrecognized. Many conditions, diseases and the process of aging affect our ability to swallow safely. Attending this course will help you to know when to refer for a swallowing evaluation and how to better care for persons who have difficulty swallowing. Useful Information on types of swallowing disorders, signs of difficulty swallowing, and practical management of these conditions including diet modifications and feeding strategies will be provided.
Points that will be covered by Speech Therapy:
How do we swallow? Why is dysphagia a concern? Common signs and symptoms of swallowing problems · What is aspiration and why it is bad? Silent aspiration, why we should be concerned · What is a swallow study? What are some treatments for someone with a swallowing problem? Choking precautions · Dysphagia diets and modifications · How to use thickening products easily and correctly
Points that will be covered by Occupational Therapy
Simulation experience (client perspective) · Setting up for mealtime success · Environmental preparations · Positioning at mealtime · Equipment use · Basic techniques · Encouraging maximal participation in the mealtime experience · Addressing frequent mealtime problems
About the Presenters:
Stevie Marvin, MS, CCC-SLP is a licensed speech and language pathologist and a member of the Swallow team at the University of Wisconsin Hospital and Clinics who specializes in the evaluation and treatment of swallowing disorders and related issues. She is a graduate of the University of Wisconsin Milwaukee with a master's degree in Speech and Language Pathology. Stevie is highly interested in providing swallowing assistance to tracheotomy and vent dependent patients, to individuals with brain injuries and adults with developmental disabilities.
The University of Wisconsin – Voice & Swallow Clinic offers comprehensive evaluation and treatment for patients with concerns related to speaking, voice, and swallowing. The professionals at UW Health's Swallowing Clinic evaluate and treat adult and pediatric patients with concerns about their swallowing function. We perform comprehensive reviews, taking into consideration any medical, surgical, lifestyle, occupational and emotional factors related to your concern.
Sandy Droster, OTR received her BS degree in Occupational Therapy along with Certification of Specialization in Gerontology from the University of Wisconsin-Madison in 1997.  She has worked her entire career working with individuals with neurological impairment as a result of accident or illness.  She has practiced for over 5 years in the field of developmental disabilities with clients ranging from early childhood to adulthood.  Sandy has lectured to a variety of health care professionals on topics related to treatment of individuals with neurological deficits and developmental delays including treatment of the hemiparetic upper extremity, spasticity, adaptive equipment use, oral-motor function/dysfunction, sensory defensiveness, and aquatic therapy.
Central Wisconsin Center supports individuals with intellectual disabilities.  Services are provided to assist individuals in acquiring the personal skills needed to reach their highest potential. Central Wisconsin Center offers residential and short term care services to individuals of all age groups. Occupational Therapy offers evaluation and treatment to all individuals at Central Wisconsin Center. Evaluation and treatment includes sensory function, upper extremity abilities and activities of daily living skills. Occupational Therapy emphasizes safe eating within the highest functional performance each individual can achieve.
Please join us for this practical, informative session!